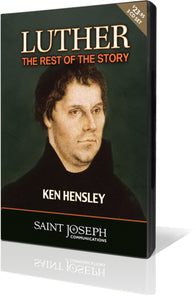 Luther: The Rest of the Story
Martin Luther was the most important figure of the Protestant Reformation. In this series of three talks, I discuss Luther's life and experiences leading up to his break with the Catholic Church and beyond. While the Church has never insisted that everything Luther had to say in his critique of the Church at the time was wrong, Catholics do insist that the solutions he offered, summarized by two key doctrines, justification by faith alone (sola fide) and Scripture as the Christian's sole and sufficient infallible rule of faith and practice (sola scriptura) were wrong and have been a disaster for Christianity. How so?
Sola Scriptura: Cracked Foundation of the Protestant Worldview
There's no question: The issue of authority is the key issue separating the Catholic and Protestant worldviews. At the time of the Reformation, millions rejected the idea that there existed on earth a unified spiritual authority, represented by the Catholic Church, and took their stand on the authority of Scripture alone. In this series of six talks, we go straight to the heart of the issue, arguing that the foundational Protestant principle of sola scriptura is simply unscriptural, unhistorical, unworkable and, ultimately, illogical. Let me know if you agree!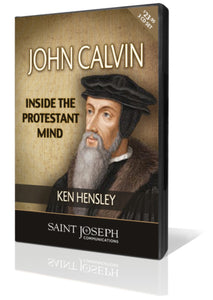 John Calvin: Inside the Protestant Mind
We accept with respect and affection our Protestant brothers and sisters in Christ. We also want them to come home to the Catholic Church. Well, if we're to win them, we have to understand them. In my experience, most Catholics have no clue as to how Protestant's think. In this series of three talks, I use the life of the greatest theologian of the Reformation, John Calvin, as a window into the Protestant mind. What insights can we gain from his life that might help us as we seek to call our separated brethren home? Join me to find out.
What Others are saying
Ken Hensley is a truly remarkable apologist, especially when it comes to Sacred Scripture, Reformation history, and taking complex theological issues and making them accessible to the average Catholic in the pew.

Tim Staples, Director of Apologetics and Evangelization at Catholic Answers
Having worked in the field of Catholic apologetics for nearly 30 years, I've been privileged to know and collaborate with many talented, inspirational, and effective teachers of the Faith. It's no exaggeration to say that my friend Ken Hensley is among the very best of the best of the Catholic apologists serving Christ and His Church today. Ken has a wide and deep knowledge of Scripture, Church history, and theology, he is personable and approachable, and he invariably makes a compelling case for truth with charity and aplomb.

Patrick Madrid, Apologist, Author & Radio Host
I want to recommend my good friend, Ken Hensley, who is a very effective speaker on a wide variety of subjects, ranging from Scripture and Apologetics to Church History and the New Atheism... Ken is an expert pastor, with a pastor's heart, who can make the Bible come alive. I'm looking forward to more of his teaching in the future.

Scott Hahn, Professor of Theology, Franciscan University of Steubenville
Ken Hensley's ability to impact an audience is truly a gift. He teaches the truth in a way that would draw the 'unreached' to the truth and beauty of Catholicism, and conveys meaty content in a way that's accessible to everyone. He doesn't just deliver a talk. He forms the listener. He's been hidden for too long, and I'm excited for the blessing that's about to sweep across the Church in Ken's ministry!

Chris Stefanick, President of Real Life Catholic
As an apologist, Ken Hensley has three secret qualities that, thankfully, aren't so secret anymore: he's an exceptionally engaging teacher who brings to the craft his own curiosity and love of the subject; he knows how to distill deep content for the average person; and he's evangelically Catholic. And did I mention his relentlessly off-beat sense of humor?

Patrick Coffin, Author, Speaker, Host of the Patrick Coffin Show